Female match officials were the unsung heroes of the recent Women's Euros – now the RFL is about to launch its own female match officials recruitment drive.
The 'all ages and stages' programme will cover all variations of Rugby League and cater for all levels of interest and ambition, from the community game to Super League, in a bid to boost numbers and aid development of existing officials ahead of the 2023 season.
Key date Sunday 18 September when an Open Day for women and girls will be held at St Helens Totally Wicked stadium (9am-12noon).
State of Mind will be there with the 'Be The Ref' Virtual Reality Rugby League Referee Experience so come and see us
The Open Day will be an interactive event where those attending can hear from and engage with current match officials, find out more about the future events, get advice on volunteering and career progression, and enjoy refreshments before heading to the Totally Wicked Stadium for Women's Super League finals day. All those who both register and attend the open day will receive tickets to the Women's Super League finals day.
RFL Head of Match Officials, Steve Ganson, says: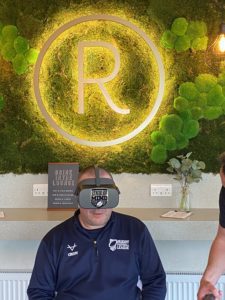 "Rugby League's biggest player recruitment programme, InspiredBy, is currently underway – now we are aiming to do the same for female match officials. It's critical that as we grow participation, especially among women and girls, recruitment of match officials keeps pace.
"This programme offers a fantastic way to discover and encourage prospective match officials, with a calendar of regular activities and events ahead of the 2023 season. Whatever your level of interest, commitment and ambition, we'll have a role for you. There's an accessible pathway for emerging match officials to progress all the way to the top of the game – if you want to."
Match Officials Business Manager, Mike Smaill, adds:
"Alongside project leads Marcus Griffiths and Rebecca Whiteley, I am delighted to see a designated space for female match officials come to fruition. We know that there are players past and present, supporters, volunteers, people with transferable skills from other sports and other walks of life, who might be interested in becoming a match official.
"Being a match official can be incredibly rewarding. It allows you to actively participate in the game, help nurture talent, stay fit and active, and challenge yourself to understand the laws of the game and to implement them under pressure. These are essential skills in the world of work and in life."
Anybody interested in being a part of the programme, should register interest online https://docs.google.com/forms/d/e/1FAIpQLScOr_ASVAVV4NYJWl1LHuKsbiPLY4j4jdhSdH8rYXByLlDctg/closedform
Email enquiries can be made via Rlwgoprogram@rfl.co.uk