Tomorrow is World Mental Health Day, a day when Rugby League Cares is proud to celebrate all the work the charity is doing to improve the mental fitness, health and wellbeing of people in Rugby League communities everywhere.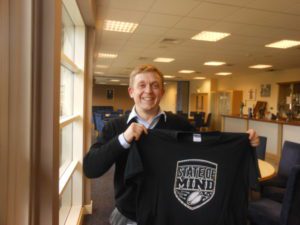 Chris Rostron Rugby League Cares
From junior players at community clubs to the game's international stars, as well as fans and non-fans alike, RL Cares has been here supporting thousands of people throughout the coronavirus pandemic. And here is where we will stay.
In the last few years we've made a positive difference to the lives of countless people: people like Francis Maloney, the former England, Castleford, Salford, Dewsbury, Warrington and Wakefield stand-off, who freely admits that RL Cares saved his life.
In 2014 Francis contacted RL Cares after poor mental health had seen him attempt suicide on three occasions. Within a few weeks of getting in touch, Francis was seeing specialists at Sporting Chance clinic who helped him with the long process of turning his life around.
"I'm in a good place now," says Francis. ""I still have issues occasionally but thanks to Rugby League Cares I now have coping mechanisms and can live a reasonably normal life. Without Rugby League Cares I wouldn't be here today."
Every year, upwards of 100 current or former players access the expertise of Sporting Chance, all funded by RL Cares.
The charity is also focused on improving the mental fitness of all Rugby League communities. Our team of mental fitness ambassadors, who are all ex-professional players, are providing a range of life-saving services across Rugby League towns and cities to support those most in need.
At the forefront of this, is our award-winning Offload programme. Over 3,000 male fans have received support from Offload over the last three years. Those who attend the 10-fixture programme go on to improve their wellbeing, be more resilient, improve their confidence, coping strategies and make new friendships.
Warrington fan Ian Lawton has seen his outlook on life transformed since he began attending Offload fixtures at the Halliwell Jones Stadium.
"I've been suffering from depression for a few years now and though it's been manageable with medication and support from people around me, there's rarely been a time when I have felt in complete control of it," says Ian
"Like a lot of people with long-term illness, I have good days and bad: my medication usually works but there are times when I feel really low.
"Offload has made a huge difference to my life, it's been inspirational and given me new coping mechanisms to deal with my illness and live my life to the full."
Last month, RL Cares, in partnership with Movember and RLWC2021, launched the Ahead of the Game programme which over the next 12 months will see more than 9,000 young Rugby League players become equipped with the skills and techniques needed to stay mentally healthy.
Ahead of the Game mental fitness workshops are being delivered by our team of former professional players, all of whom have a wealth of life skills and experiences they are sharing with the stars of tomorrow. The likes of Robbie Hunter-Paul, Keith Senior, Lee Crooks and Colin Maskill will also deliver Ahead of the Game workshops for all their parents and community coaches.
"Ahead of the Game is going to make a huge difference to the lives of the next generation of Rugby League players, as well as the boys' and girls' families," says Keith Senior. "The workshops are being well received by everyone who takes part and there's already a real sense that the stigma around mental health is fading."
During lockdown, RL Cares also delivered virtual mental fitness workshops to over 300 young players who were struggling with the mental pressures of social isolation, lack of school and not seeing their extended families.
RL Cares is proud to have received funding from national mental health charity MIND, to provide a free 1-2-1 counselling service for all community Rugby League players, coaches, referees or administrators.
By providing services across the whole sport, Rugby League Cares aims to break down the stigma associated with mental health and help all our communities live as healthy and happy lives as possible.
Make a Donation
And help us make a difference.
Why not help us support the Rugby League family by making a donation to Rugby League Cares? Donate £20 and we'll send you an electronic copy of our twice-yearly magazine, One In, All In and keep you up to date with all the important work we do.
DONATE TODAY
© Copyright 2020 All Rights Reserved
Rugby League Cares is a registered charity in England and Wales (1150763).