Andrew Ward and friends ran the St. Helens 10k to support State of Mind on March 1st 2020
Due to my long standing friendship with Dr. Phil Cooper (co-founder of State of Mind Sport, for the past 4 years, myself and a couple of friends have been running the Saint Helens 10k race, sporting the very dashing 'State of Mind' logo, in an attempt to raise awareness of mental health issues, primarily in Rugby League & sport but also the wider community.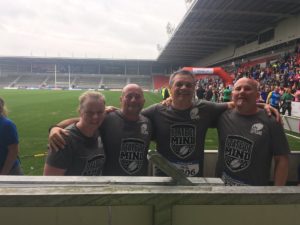 This year, the cause has sadly become much more prominent in our lives due to the loss of our very own dear friend Si Ellam a former teacher pictured (far left) with his students below.
On April 15th 2019, Si lost his battle with anxiety. You never think this could happen to your loved ones until it does. Each and every one of us must open our eyes and work together to bring this hugely devastating illness to the fore.
But to do this, and to provide help and education, the 'State of Mind' charity needs constant fundraising (as well as hobbling around St. Helens on a cold Sunday morning wearing the logo). www.justgiving.com/fundraising/stateofmind10krun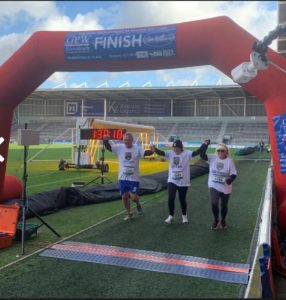 We asked people for support in fundraising, friends of Si's or not, to make donations to this ever important cause. Because of Si, this years runners have increased some what!
List of Runners…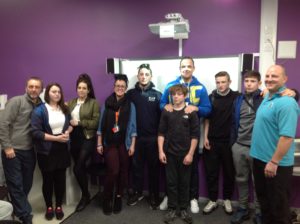 Phil Cooper & Family consisting of: Helen, Sarah, Hannah, Catherine, Joe, Liam and Luke.
Finley Ellam and his mates Tom and Chris.
Steph Rigby, Dave and Auntie Shirley Sawyer and Judith Fox.
Anne-Marie and Rob Berry.
Claire Barber, Lee & Andy Ward.
Also, in memory of Si, we organised a rather splendid party to take place at the Albion public house, Battersby Lane, Warrington.
It started at 1.30pm on 1st March 2020. Jenny from the Albion has very kindly allowed us to put on an all day disco, with the best DJ IN THE WORLD EVER!! (Alan O'Donnell) and later on live music from the fantastic Warrington bands Brown Sauce and DogBone!
These lads are volunteering their services free of charge to help this remarkable charity so please come down, buy a few raffle tickets and celebrate the life of Si Ellam together!!
The funds raised from the day have now topped an amazing £5000!! and Andy wanted to thank everyone who donated to the just giving and on the day at the Albion, we are extremely grateful for everyone's efforts on behalf of State of Mind Sport