Former Warrington forward Mike Nicholas has been awarded an MBE for his services to Rugby League in Wales.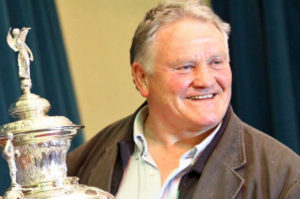 Port Talbot-born Nicholas joined Warrington in 1972 and has lived in the town ever since. The 73-year old has been president of Wales Rugby League since 2003, and is a lifelong supporter of junior development in both the principality and his adopted town.
In 1981 Nicholas was instrumental in the launch of the Cardiff City Blue Dragons club and was briefly team manager for the Welsh students side before assuming a similar role for Wales RL from 1993-2000. As president of Wales Rugby League, Mike helped establish the domestic competition that today features Bridgend Blue Bulls, Cardiff Blue Dragons, Rhondda Outlaws and Torfaen Tigers.
Mike told the Wales Rugby League:
"This is a really proud day for myself, my family and for the game of rugby league. I don't do my work in rugby league for recognition, but it's nice to be rewarded in this way nonetheless. It's a reassurance to know sometimes that people think that I'm doing the right thing. I'm president of Wales Rugby League, but even if didn't have an official position I'd still be promoting rugby league because of the passion I have for it
State of Mind would like to pass on our congratulations for a well deserved award