State of Mind were honoured to be invited to the Yorkshire Referees Annual Awards dinner in Huddersfield on Friday night
State of Mind presenter Ian Smith and former Super League referee was joined by Dr Phil Cooper trustee to help facilitate attendees to try out the 'Be The Ref' Virtual Reality rugby league referee experience as we aim to change the views of rugby league fans, coaches and players about how difficult it is to referee a game of rugby league.


Rugby league referees need to have so many skills to allow players to enjoy their sport every week
Those skills include
Good communicators / people, respect for players and coaches whilst being strong but human in your approach. 
Understand the rules, be resilient, confident, calm and fair.
Accountable for mistakes as decisions can have big implication for both players and coaches
Understand the momentum, feel and flow of a game using their common sense AND implement the rules in a black and white fashion
Referees need to be fit, understand what players and coaches are trying to achieve (including bending the rules) have good positioning throughout a game, good peripheral vision and be consistent.
This all takes place and needs to be implemented whilst running between 8-10 km during a game.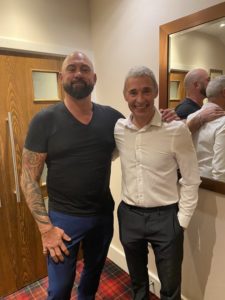 Respect the referee!!!!
State of Mind would like to thank Jayden Covell-Wood for the invite and a special thanks to Jeff Wittenberg former Bradford and Huddersfield (and others) for his generous donation of his speaker's fee to State of Mind, humbled thank you!!