To commemorate Mental Health Awareness Week, State of Mind have released their second single 'Whatever is Today, There is Tomorrow'.
The song highlights the fact that mental health struggles are temporary and that there is always light at the end of the tunnel.
'Whatever is Today, There is Tomorrow' is now available to download on both Apple Music and Spotify.
Former MP Greg Mulholland wrote the song written especially for State of Mind, and Greg explains why he felt he wanted to write the song that will be released on all music downloading options on May 15th.
"I've sat through a lot of meetings over the years, but one will always stand out for me, above all the others. In March 2017, when I was in my seventh year as the Chair of the Parliamentary Rugby League Group, we hosted a meeting to hear from the State of Mind charity.
"We welcomed many of the State of Mind team that day, led by Malcolm Rae OBE, a British senior registered specialist in mental nursing/forensic psychiatry who co-founded State of Mind.
"We heard from the whole team, medical experts and campaigners, about the hugely positive work that the charity had done in the previous 6 years.
"It was, however, the extraordinary testimonies of Jimmy Gittins, Danny Sculthorpe and Brian Carney that not only silenced the room but that led to their not being a dry eye in the house. The power of those courageous statements and stories will live me forever.
"Following this remarkable meeting and the revelation and inspiration it provided, we had a very pleasant drink in the Strangers' Bar and we talked with the team about what we could do to get this important State of Mind message out further.
"Malcolm, who had noticed on social media that I was a songwriter and played in a band, Summercross, said (I think half-jokingly) "Why don't you write a song for us Greg". I said, "Malcolm, you know something, I will!"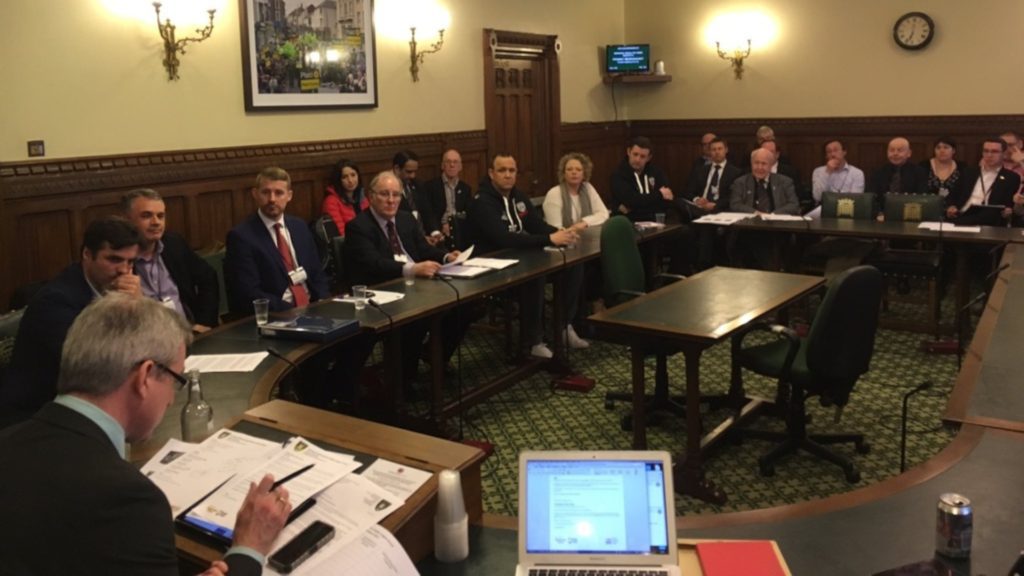 "Whatever is Today, There is Tomorrow is inspired directly from that meeting and those remarkable testimonies, testimonies that frankly every person should hear.
"They gave me a new and more profound understanding of how terrible life-changing challenges can, without support and without sharing them, can lead almost inevitably to suicidal thoughts and too often, to suicide.
"So inspired was I, that I wrote the song and music in just a couple of weeks. Little did I know that my life, too, was to change unexpectedly in just a couple of months.
"Out of the blue, Theresa May called a snap election. She lost her majority and reputation and I lost my job and career. Now I'd be the first to say that what I experienced is nothing at all compared to what Jimmy and Danny have gone through, but what I did experience was a profound sense of loss of identity which seemed comparable only to sports stars who suddenly, perhaps through injury, lose their career and identity.
"I didn't know who I was or what I was for. I was lost and I couldn't see what I might be able to do with the rest of my life having had the job I loved and felt was a vocation, unexpectedly taken away with me.
"Thankfully, as well as a loving family and friends, I had my music and I was able to express my feelings in a new song 'Silver Lining' which actually includes the line "don't know who I am or what I'm for".
"I also knew, thanks to State of Mind, I had to share how I was feeling and not bottle it up and pretend I was not lost and at times, depressed.
"So I gave a searingly honest interview to the Yorkshire Post, something I would not have dreamt of doing before. I also read the lyrics I'd written to Whatever is Today, There is Tomorrow and they had a new, more personal meaning.
"The whole thing was a powerful reminder that any of us – any of us – can suddenly face life changes and mental health challenges, however tough or resilient we may feel the day before.
"As well as the silver linings of my more time with my family, playing music and going to rugby league matches, one particular silver lining was in September 2017.
"This was when, during my next bit of work, a week presenting the lunchtime phone-in on BBC Radio Leeds, the producer allowed me to choose the topic for the whole show (on my birthday). I chose 'Silver Linings', to hear from people about the positive things to come out of adversity and setbacks. My special guest? A certain Jimmy Gittins.
"So I'm delighted to have been asked and to have written a song for State of Mind. It's a real honour for me as a songwriter and as a campaigner and I hope something that will help spread the State of Mind message, now I can't do that in the way I used to with the Rugby League APPG.
"I also now know myself, how true the words I wrote are and how important it is to talk and to #letitout."
"So know that you have people you can turn to
and know that you need never hold it in.
And know that there's a way out, we will find it
and know that all together we will win".